NBA.com relased its Rookie Sruvey, which polls the incoming rookie class about itself.
Check out the survey
here
. Check out the original article from Philly.com,
here
.
--
The Sixers had a plethora of picks in the 2014 NBA Draft, and as a result they have a deep reserve of rookies looking to land on the roster. Some of these rookies have already made a strong impression on their peers.
NBA.com's 2014-15 Rookie Survey, which takes into account the opinions of a majority of this year's draft class, see some Sixers landing in top spots of the survey.
Last weekend, at the annual Rookie Photo Shoot Day at the Knicks' practice facility, 38 rookies answered eight separated questions about their draft class. Questions asked included most likely to win Rookie of the Year, best playmaker, and favorite player to watch in the league, among others.
The results saw two separate Sixers each voted as top in a category by their rookie peers.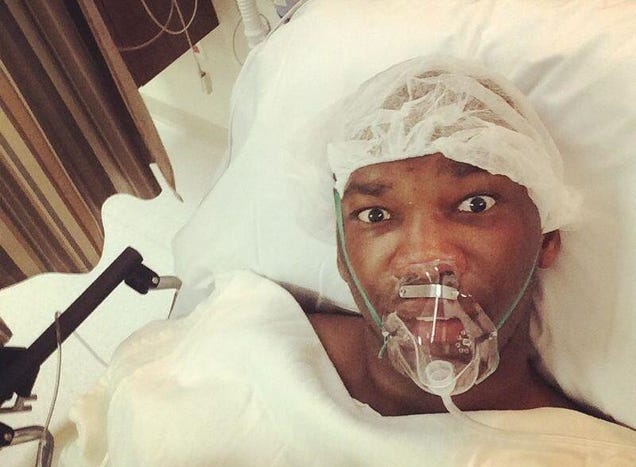 Joel Embiid image from Deadspin.com
K.J. McDaniels, the Sixers' second-round steal, was voted as the best defender by the other rookies.
McDaniles received 13.5% of the votes in the category. Joel Embiid also cracked the category of best defender, coming in at fifth with 8.1% of the vote. Having two rookies so dedicated to defense is a solid sign for the Sixers.
Joel Embiid wasn't done receiving recognition however, as he was also voted funniest rookie by his peers, taking in a whopping 20% of that vote. Embiid's recent Twitter antics probably helped in this regard, as they show a sillier side to the center.
Embiid may have some comedy competition however, as the Sixers' second-round selection out of Syracuse, Jerami Grant has some humor of his own, and was voted as the third funnies rookie.
Looks like the Sixers have a future full of dedicated defense and locker room laughs.
Embiid looked to ease any doubts about his disposition over the weekend, saying that the silliness doesn't carry over to the court.
"When I get on the court I'm another man. I don't laugh, I don't play. I would say off of the court I'm goofy," he stated.
It seems as though his fellow rookies would agree with that statement